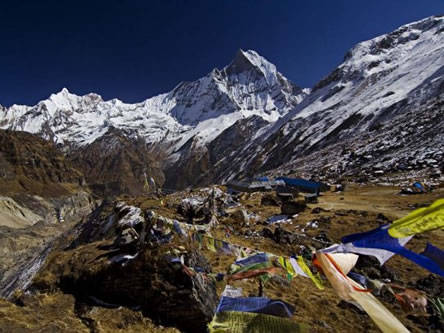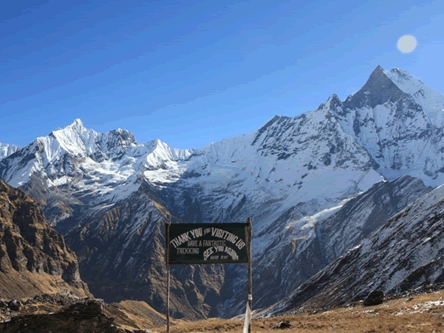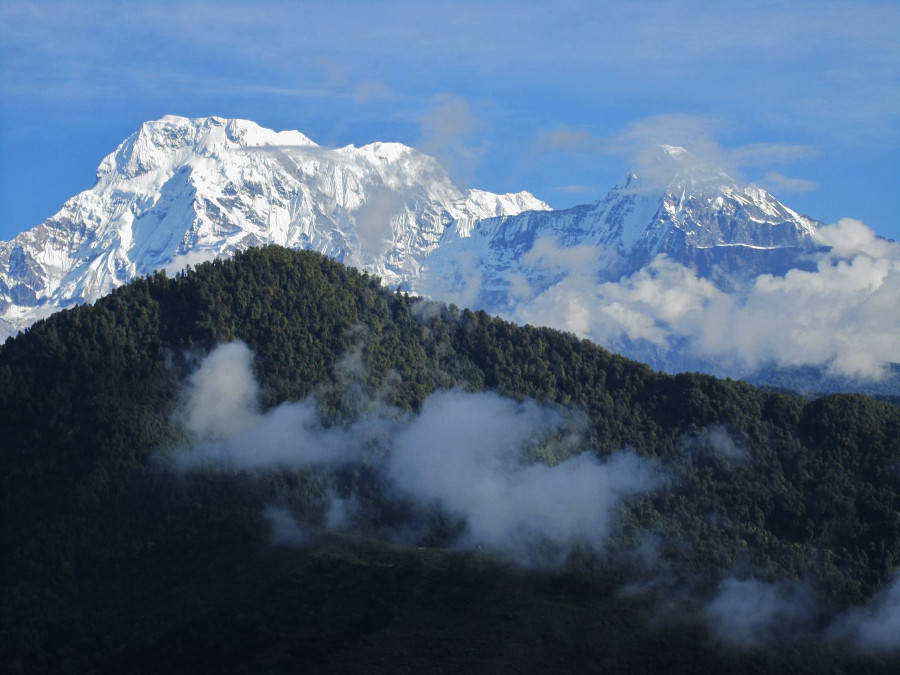 Annapurna Base Camp (7-12 days)
The Annapurna base camp trekking, also called the Annapurna Sanctuary Trek, is a medium level trekking. This trek requires a good experience of walking and a good physical condition. It covers views of the Machhapuchare, Annapurnas, Daulagiri, Nilgiri and other beautiful mountains. The trail passes through different ethnic villages, forests, and cultivated land. Rhododendron is the national flower of Nepal, which is blooming in March-April. This route steps ascending up to 4130m at Annapurna Base Camp and descends towards Ghorepani and Ponn Hill from there we can observe the charming of the panoramic Himalayas views.
The Name "Annapurna" came after the Mount. Annapurna, which is the 10th highest mountain in the world. The Annapurna Base Camp trek leads to a natural amphitheater that is used as the base camp from which climbers start on their way to conquer the Annapurna Mountaintop. The mountain reaches 8091 meters above sea level, and the base camp's altitude is 4130 meters above sea level. If you really want to know what it feels like to be in the wonderland, Annapurna Base Camp Trek is certainly your thing. It would not be unbelievable to state that you get to experience an exotic place that is beautiful and at the same time that gives you the joy of a life time. It all begins at one of the most beautiful cities in the world, Pokhara. Annapurna has derived its name from the popular cultural belief that she provides the food for all. In Sanskrit, Annapurna means copious of food. As its very name suggests, the trekking guarantees you nothing short of fun, pleasure and a deep insight about the natural and cultural heritages of the tiny Himalayan country, Nepal.
Annapurna Base Camp Trek is accompanied by the Modi River alongside and luxuriant rhododendron forests and bamboo bushes. As soon as we head out from Nayapul, which is the starting point of Annapurna Base Camp Trekking, you feel saturated by the nature and an unidentifiable calm in your heart and soul. Not only do you get to know nature in person, you are going to have the opportunity of talking to the native residents along the way who are known for their hospitality and warmth. The Gurung, Thakali and Magar communities have one of the most special and unique cultures in the country. It is one-of-a-kind experience to be one of them for a while and rejoice their hospitality.
Annapurna Base Camp Trek starts with the river bank of the Modi River and keeps changing the settings as you ascend uphill, it transforms its natural landscapes from the river bank to the thick forests and from lush green grazing lands to the paddy field. Annapurna Base Camp Trekking begins to raise the adrenaline level when these natural settings bid farewell and the giants themselves get down on the floor to check on you. Within few hours of trekking, which is nothing less than fun and pleasure, you arrive at Birethanti. You can stop by at one of the restaurants and spend some time sipping at your cups of local tea and coffee before you move ahead. By the time you call it a day, you will already have been captivated by the nature and the unprecedented moments you have earned yourself on the very first day of Annapurna Base Camp Trek.
That is not even the best part. There is more to come and more than you have expected. On your way up, you can find the mountains like Annapurna watching you stepping 3000 stairs of Ulleri. Beautiful mountains all around and serene nature everywhere, it does not get any better than this. It can be almost unbelievable to get back home without a scratch and not even feeling fatigue after you have spent some days of your life at the most beautiful trail in the world. It feels unreal and you feel like there is nothing more you could bargain for when you see the colorful rhododendron blossoming along the trek, nine species of rhododendron, to be specific. If that is not enough, this region is shelter to 100 species of mammals, 60 reptiles and amphibians and more than 450 species of different birds.
Good to Know
Experience: Need good experience and good physical condition!
Meeting place: A transfer from your hotel / resort will be arranged.


What to bring
What do you need? We advise to wear good hiking shoes for this trekking to prevent any injuries. We also advise to bring a daypack with water, a hat, sunscreen, sunglasses, insect repellant some snacks and such. Depending on the season a rain coat might come in handy as well. A porter can carry your other luggage with extra clothing, toilettries and sleeping gear etc.